OMA designs Garage Gorky Park for Dasha Zhukova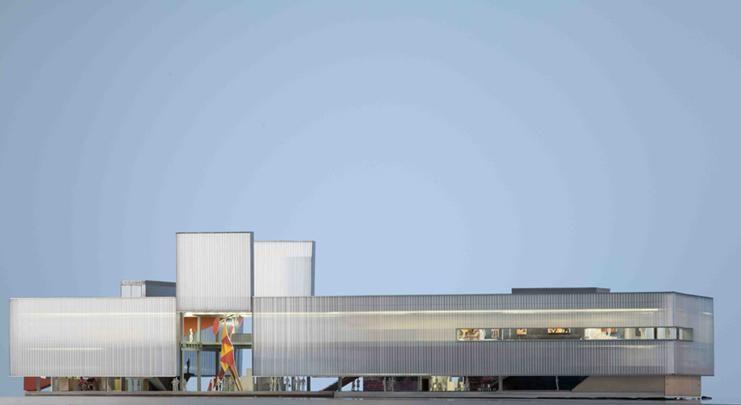 OMA is designing a new home for the Garage art gallery in Gorky Park, Moscow.
Led by Rem Koolhaas, OMA will renovate a 1960s prefabricated concrete pavilion, Vremena Goda, which has been abandoned since the 1990s. The Garage Gorky Park is due to open next year.
The 5,400sq m building, commissioned by Dasha Zhukova, includes two levels of exhibition space, a creative centre for children, a shop, cafe, auditorium and offices.
Its design aims to preserve original Soviet-era elements — including a large mosaic and decorative tiles and brick.
Zhukova said the project was unusual in the way it would make Moscow's past a part of its future.
Koolhaas said the project offered the opportunity to begin the rehabilitation of an "almost-ruin" from an era that even architecture critics have little sympathy for.
Koolhaas said: "We were able, with our client and her team, to explore the qualities of generosity, dimension, openness and transparency of the Soviet wreckage and find new uses and interpretations for them. We can intervene in almost a holocaust of every building of the 1960s, 1970s and 1980s."
Meanwhile, OMA is also claiming victory in the first round of the competition to masterplan a vast expansion of Moscow.
The practice was awarded the most points in the three-phase contest to more than double the city's size.
All but one of the 10 shortlisted teams have made it through to the second round. The UK finalists are McAdam Architects, RTKL and John Thompson & Partners remain in the running.
The eliminated team comprises Moscow Architectural Institute and Devereux Architects (Ireland). BD understands the judges felt the team had not included enough analysis in its entry and would struggle to catch up.
An OMA spokeswoman said the jury liked its idea of a joint framework for the development of Moscow and the surrounding region.
It also praised the proposal for logistics hubs at each of the airports on Moscow's periphery, establishing four new free zones designed to encourage developers.

A winner will be announced in August.